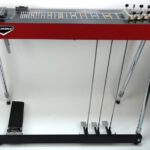 Emmons Original S-10, 3&1 Student Model w/Case
This Emmons Original S-10 Student Model uses the same Push-Pull mechanics as their pro Push-Pull models do. It has the standard A, B & C Foot Pedals used with the Nashville E9th tuning, while the RKR Knee Lever lowers the open E's to Eb's, which is the most used knee lever with this tuning.
As a bonus it comes with the standard Emmons volume pedal (which clips onto the Pedal Bar).
It features a 24¼" scale with a Roller Nut.
Includes a wrench kit, leg pouch, tip sheets, & tuning charts & hard case.