Peterson StroboPlus HD Strobe Tuner with Pitch Holder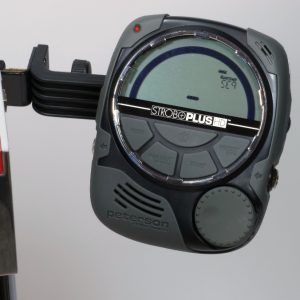 Peterson StroboPlus HD Strobe Tuner with optional Pitch Holder w/Swivel
StroboPlus HD tuner with Pitch Holder w/Swivel- $260.00
The Pitch Holder with Swivel is an adjustable bracket designed to hold your StroboPlus to the leg of your steel guitar, mic stand, etc. The Swivel allows viewing of your StroboPlus HD at various angles.
Handheld Strobe Tuner with Optional Metronome Function
Enhanced Steel Guitar Features
When you purchase your StrobPlus tuner from SGC, we set it up to turn on automatically at 'SE9' Sweetened setting, plus include our customized Steel Guitar Tuning booklet, & the PetersonConnect™ Instructions.
This Steel Guitar Tuning booklet explains the basics of using the StroboPlus, 'What is sweetened tuning?', along with various other associated tuning information.
In addition to being able to tune most any instrument, the Peterson StroboPlus HD has sweetened tunings for various E9th, C6th, B-6th & E7th pedal steel tunings, plus many lap steel & resonator tunings.
Feature Packed
The Peterson StroboPlus HD™ is an ultra high-resolution strobe tuner with our largest illuminated display ever featured in a traditional strobe format. Chromatically tune any instrument confidently to the exacting standards that experienced musicians demand or use any of the over 90 Sweetened Tunings™ that are developed and optimized for your specific instrument. Use the built-in mic, plug in or use a clip-on pickup to tune your instruments quickly with its smooth, real-time display or program your custom tunings using our PetersonConnect™ online utility.
If you are new to strobe tuners, you will notice that they are much more sensitive and accurate than your previous tuner.
Other features include:
-Audio Mode: Press the mode button until you see strobe patterns only on the the far left and far right side. To hear the pitch, press the start button;
-Lithium-Ion Battery: Plug your StroboPlus into the USB connection of any computer or common USB 5 Volt charger of the type used by many phones and other devices. Cable included.
If you do not have a computer with a USB port, (or need a portable charging method), SGC offers a USB Power Adapter for $20.00 (110V North American current) which enables charging the lithium battery of your StroboPlus HD using the included cable.
BONUS: SGC includes a Peterson Decal sticker, plus a custom Steel Guitar Tuning supplement, containing simple instructions for using the StroboPlus HD for tuning your pedal steel.