Silver Sage Pac-Seat with Backrest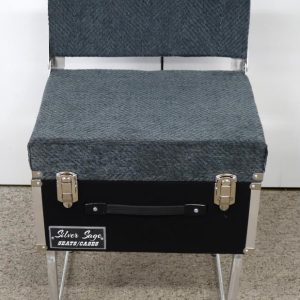 Silver Sage Pac-Seat with Backrest
This 'Made In Canada' quality Pac-Seat with a Backrest is a "Steeler's" friend. It is the accepted standard for Pedal Steel players, & are also used by keyboard players, or any other musicians that sit down. The storage compartments are an added bonus.
The Backrest can offer comfort & is beneficial when a player needs to sit for longer period of times such as in a stage production (for example).
Features:
-'No Sweat' Cloth seat for comfort
-4 compartments for your volume pedal, cables, picks, FX pedals, tools, extra strings, etc.
-Fold-up Legs for travel
-Backrest folds down for travel
-Neutral colours of Silver & Black
-Seat Height = 21" (53½ cm)
-Seat Size = 18" x 14" (46 x 35½ cm)
-Dimensions with Legs folded up & Backrest folded down = 18" x 15" x 13" (46 x 38 x 33 cm)
With normal use, this could be the only seat you will need to buy.