Henry K. Allen – How To Play The Hawaiian Steel Guitar – Book & CD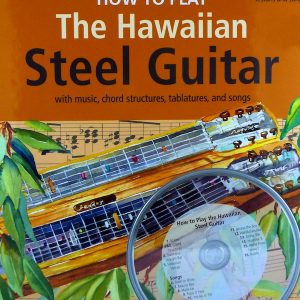 Henry K. Allen - How To Play The Hawaiian Steel Guitar - Book & CD
The sound of the Hawaiian steel guitar is sweet, nostalgic, and unmistakably Hawaiian. You can almost feel the trade winds and the surf in its subtle vibrato.
In this well-illustrated and easy-to-understand book, acclaimed musician Henry Kaleialoha Allen shares everything you need to know in order to play this beautiful instrument from purchasing a guitar, to performing with that special Hawaiian flourish. This primer, adapted from Allen's popular self-published guide, features:
....written in the C6th Tuning:
A history of the Hawaiian steel guitar
Instructions for reading musical notation
A practical guide to buying and tuning a steel guitar
Guidance on using the bar
Sheet music for 11 original songs
Exercises
A discussion of the nuances of the Hawaiian touch
and much more.
Written for beginning and intermediate students alike, this book and its accompanying audio CD will have you playing like a pro in no time.