GFI Expo X1 S-10 with Pad, 3&4 Red Mica.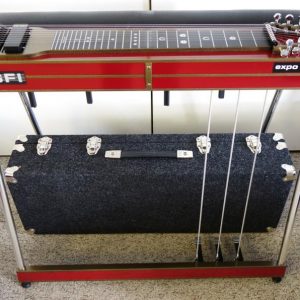 Features:
maple die board bodies with Mica finish
one piece keyhead
24 inch scale
Adjustable Lowering Springs
3 Raise & 2 Lower Changers with Stainless Steel Fingers
7 Position Rod Pullers (Bell Cranks)
classic wrap-around styling
angled frame rails
Gold Vein hammer-tone frame finish
GFI III humbucking pickup
Denim Leg Pouch
Hardshell Gray Carpet Covered Case
Leg & Pedal Rod Height options include 1 Inch Under-Height, & 1 or 2 Inch Over-Height.
Added pull for a Tuneable Split (usually on RKL) can be added for $50.00 CAD.
Optional LKV (Left Knee Vertical) installed with 2 Pulls available @ $350.00 CAD.
All guitars sold by SGC are set up by Al Brisco & fine tuned to the customer's copedent, & include a wrench kit, tuning charts, tip sheets, & Smart-Start DVD.
Price listed is in Canadian Dollars (CAD).
US dollar conversion averages between:
-0.70% ($100.00 CAD = app. $70.00 USD);
-0.74% ($100.00 CAD = app. $74.00 USD);
...depending upon the current exchange rate of the day.
When paying with Visa or MasterCard, your bank takes care of the conversion on your cc statement.