Jeff Newman – Woodshed Workshop # 36 – Don't Touch Me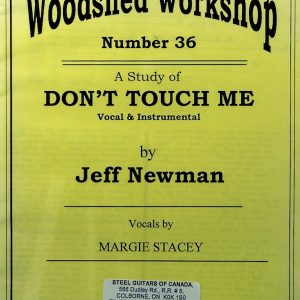 Jeff Newman - Woodshed Workshop # 36 - Don't Touch Me 
Recorded by Jeanie Seeley in the 60's with Buddy Emmons on steel. Vocal by Marcie Kates.
Each of these titles were songs that went to number one on the country charts at one time or another. Each song has a full band and a vocal track. Jeff gives you the original pedal steel licks, intros, turnarounds and some original ideas to work with in every song.
The rhythm track CD gives the songs with the pedal steel mixed in first, and the second track without steel and is left open for you to practice to. Every note of the steel part is tabbed out.
Each song has all the backup work, a full instrumental verse and chorus, and a turnaround like the original recording if there was one.
For working players, this is the ideal way to learn to play these songs, the right way in one tenth the time!