Jeff Newman – Woodshed Workshop # 38 – Making Believe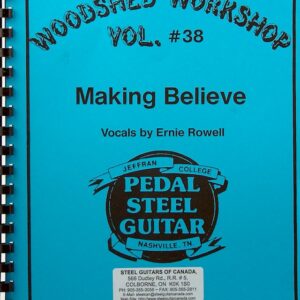 Jeff Newman - Woodshed Workshop # 38 - Making Believe
An old standard made famous by Kitty Wells that will be around for many more years.
Ernie Rowell is doing the vocals. Key of D.
As it only has three chords, it qualifies as great country material. The way it goes from the D to the G chord over & over, gives you a chance to use all those near D7th chords.
We cut this song in the Ray Price 4/4 shuffle style. Jeff tried to use every kind of country lick you can use in a song like this, but didn't have enough time to get the all in.
You will witness the profuse use of the B & C pedals in this one, so tune them up for a change. You will see almost every kind of D7th, and A7th that you can play on the E9th neck.
For working players, this is the ideal way to learn to play this type of song, the right way in one tenth the time!