GOODRICH H-120 Volume Pedal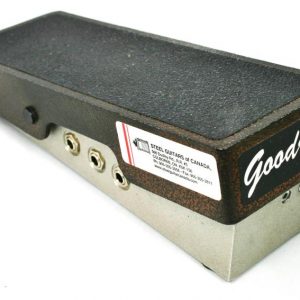 GOODRICH H-120 Volume Pedal
The GOODRICH Model 120 Volume Pedal has long been a favourite of the professionals because of its simplicity and dependability, and because it does what it's supposed to do - control volume smoothly and quietly, making it the 'Most Requested Volume Pedal for Steel Guitar'!
Use either output for driving one amp. It has two outputs for driving two amps or two channels of one amp, mixing console, etc. Handcrafted in the USA. One output jack can also be wired for a tuner jack.
NOTE: As with any volume pedal, it increases the height of your leg between the floor & the bottom of your guitar body, so you should make sure your guitar fits you.
The Goodrich H-120 will add app. 2½ inches (6 cm) to the distance from the floor to the top of your knee.
Goodrich also offer their 120 passive volume pedal in a 'Low Profile' model, the L-120 which gives you an extra 1/2 inch of leg room under your guitar (= 2" Height).
Option:
The optional Goodrich Attachment Bracket @ $65.00 keeps your volume pedal securely positioned on your pedal bar & allows you to pick up your guitar & volume pedal in one motion.
Special: Get the Goodrich Model H-120 & the Attachment Bracket together for $415.00. (reg. $455.00)