Quilter Travis Toy 12 Steel Amp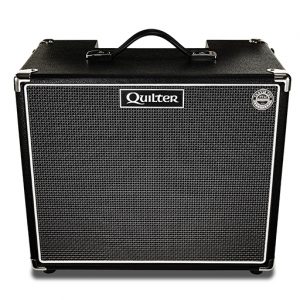 Quilter Travis Toy 12 Steel Amp
The TT12 is more than just another steel guitar amplifier. It represents the culmination of Travis' lifetime effort to build a legacy of great tone, honest value, and effortless performance. This combo amplifier takes the Eminence Double T-12" speaker and forges it with Quilter's new Tone Block 202 resulting in a powerful 300 watt combo package for steel guitarists.
Tone-Block-202 Control Knobs
Gain - Limiter - Bass - Mid - Treble - Reverb - Master - Power Switch
Tone-Block-202 Switches & Jacks
3-Way Voice Switch* - Input - FX Send - FX Return - Signal Out w/2 Way Line/Headphone Switch
*Switching the 3-Way Voice Switch to the right provides a 'Vintage Sound' similar to a tube/valve amp....a very nice feature!
Tone-Block 202 Rear Panel
Power Cord Jack 100-240 V ~ 250W 50/60Hz, 4 Ohm & 8 Ohn Speaker Jacks, XLR Isolated Balanced Direct Output.
The Tone-Block amp head is secured vertically at the top-rear of the cabinet, & can be played in this position, or lifted out & placed on the top of the amp.
Features:
-Power: 300W
-Weight: 27 lb. (12.25 kg)
-12" Custom Eminence Double-T speaker
-Tone Block 202 amp head
-Dimensions: 19.5" x 14.5" x 22" (49.53 cm x 36.83 cm x 55.88 cm)
-Includes ballistic nylon cover and engraved tilt-back legs