Peavey Blazer 158 Guitar Amp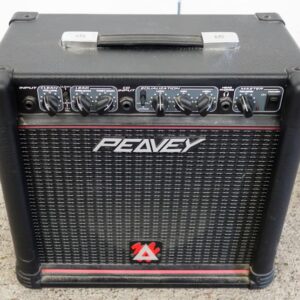 Peavey Blazer 158 Guitar Transtube Series Amp
This amp features 2 channels and 2 very different voicings -- Modern and Vintage. The Modern position maintains a warm, stand voicing while the Vintage position adds a hint of brightness to emulate some classic amp designs.
Features include:
-Two switchable channels: Clean and Lead.
-3-Band EQ.
-Reverb
-Tape/CD Input.
-Modern/Vintage voicing switch.
-Headphone Jack.
-15 watts (rms)
-Weight Unpacked: 14 lbs (6.4 kg)
-Height Packed: 10.25"
-Width Packed: 15.37"
-Depth Packed: 16.37"
It has great sound for an amp of its size, its compact and is great size to keep in your room for practicing with, and also has a CD Input & Headphone Jack which is great for practicing.
Its a great little amp for anyone and its affordable.