Al Brisco – Pickin' Up The Dust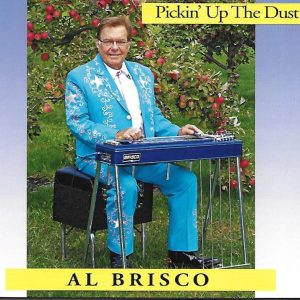 Al Brisco - Pickin' Up The Dust
This is Al's first Musical Steel Guitar Instrumental CD, culminating after his many years in the music business playing pedal steel guitar. Al started playing pedal steel in 1964 around Renfrew, Ontario in The Ottawa Valley with The Countrymen, going on the road in 1965 & playing with various bands, doing club dates, concerts, recording sessions, Radio & TV shows, etc.
Al's steel guitar influences include Ralph Mooney, Tom Brumley, Buddy Emmons, Buddy Charleton & Lloyd Green.  Some of the groups & artists that have helped shape Al's career include The Sons Of The Saddle, Dick Damron, Honey West, George Hamilton IV, Pure Prairie League, Ian & Sylvia Tyson, Gordie Tapp, Gary Buck, Johnny Burke & Eastwind, to name a few. Al continues playing these days with Carroll Baker & Baker Street & Freddy Vette & His Rhinestone Plowboys.
Songs Include:
Appledale Ride
The Heartache
Waltz Medley: Shannon Waltz / Purple Violet Waltz / Lake Doré Waltz
Frisbee
White River Stomp
Blue Steel
Could I Have This Dance
Slightly Sea 6th
Pickin' Up The Dust
Tab Instruction Book & RT CD (Tracks) are available for this CD under Instruction heading.
Remember: There's a Minimum Order of $40.00 (mixed) product (+ shipping & taxes if applicable) on Mail Orders.