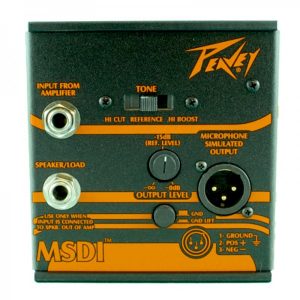 Microphone Simulated Direct Interface for electric guitar, steel guitar, fiddle, etc. applications. This unit is great to get the sound of your amp into a mixing console, in either live of recording playing.
• Simnulates the sound of a miked guitar cabinet
• Eliminates the need for live microphones
• Fits between amplifier & speaker cabinet in signal chain
• Passive circuitry
• No signal clipping
• Can be used as a Headphone Out (which cuts out the speaker), to practice, tune up, record without bleeding
• room sounds from your instrument, etc.