GOODRICH OMNI L-OP1 Low Pro Volume Pedal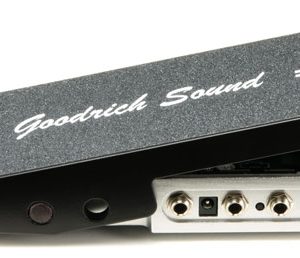 GOODRICH OMNI L-OP1 Low Pro Volume Pedal
ACTIVE / PASSIVE Volume Pedal
The Omni Pedal - Low Profile
An excellent choice for guitar, pedal steel, violin, bass, keys...
anything that plugs in!
A volume pedal created for professional musicians and enthusiasts requiring the best possible performance and flexibility from their gear. The Omni was developed through years of countless combinations of components and values, research and testing. We incorporated the feedback and skills of the best electronics engineers and players and combined that with the quality Goodrich product is known for to dial-in the tone that we agree to be exceptional.
ACTIVE MODE: In Active Mode, the input from your instrument goes first through the circuit, and then to the potentiometer, back to the circuit, and then to the output(s) and tuner. This results in a very even feel to the sound and a clear tone through the full range of the taper. Omni Active Mode delivers excellent pedal control with no loss of highs or volume. [ 9v battery or the DC input (included) when in Active Mode. Minimum of 500 hours battery life. ]
PASSIVE MODE: In Passive Mode, we decided to stay with the tried and true method of potentiometer and string actuation. Why mess with a good thing! Our Goodrich 470k potentiometer has a subtle and slight mid-range bump that is part of our classic pot sound. The Omni Passive Mode has superb feel and sound with minimal high-end loss. [ Battery is disconnected in Passive Mode. ]
Omni Pedal Features:
Active or Passive
Input and output jacks located on both sides
Tuner out located on both sides
HighPro and LowPro profiles available
Includes installed battery and 9v DC power supply
Pedal resistance adjustment located on the right side
Custom engineered, Goodrich 470k potentiometer* guaranteed for 1 year